As i wanted to continue with the Tabata method at home, i found a couple apps with tabata timers:
  Tabata Timer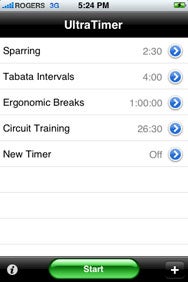 Time to Workout: Plain and Simple designed Ultra Timer to aid segmented exercises such as interval training and circuit training. But you can use it for any sort of timing function.
UltraTimer by Plain and Simple Software is an ideal tool if you want to use your iPhone or iPod touch to keep you on track.
Personally I like the customization options of UltraTimer better then the tabata timer as it can fade the music when you work out and the sounds at the different time intervals.